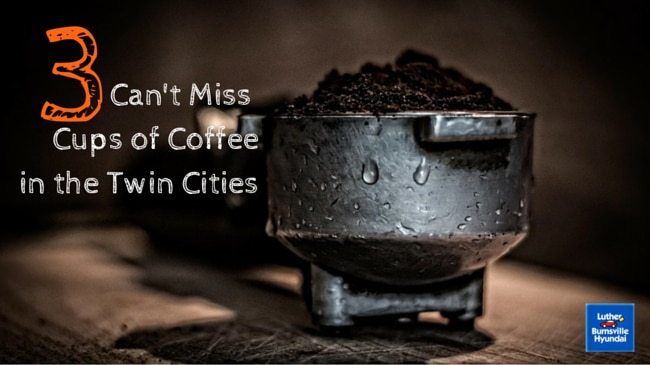 Temperatures might be rising, but no matter the season it is always a good time for the perfect cup of joe. We all have our favorite coffee havens where the barista knows our order before we walk in the door, but there's nothing wrong with branching out and trying some place new.
We've rounded up some of the best coffee spots around the Twin Cities, each with their own unique brews, flavors and vibes. So take a look at our list and try something new. Who knows you might just find your new perfect cup.
At Luther Burnsville Hyundai in Burnsville, MN, we have complimentary coffee and snacks available for our guests while visiting the Hyundai dealership in MN. Is it time for your Hyundai's routine maintenance? Schedule a service appointment online today! It's better in Burnsville!
Claddagh Coffee
(651) 600-3400
When Mary Hogan Bard opened her coffee shop in 2011 she set out to share her love of coffee with the city using beans from all over the world roasted in the Midwest. Claddagh coffee has received a significant amount of press since opening their doors. Click here to see a list of their recent press. Stop on in and try the shop's namesake, The Claddagh made with espresso, Irish cream, dark chocolate and steamed milk, or the Drop Kick Murphy, made with espresso, Coca-cola and cream served over ice. When you stop in be sure to tell Mary we said hi.
Dogwood Coffee Bar
(612) 354-2952
If you are looking for a quick in-and-out cup of joe, Dogwood is probably not the place for you. Dogwood prides itself on finding the right farmers to buy their beans from, and taking the time to learn about and crafting the perfect roasting process for each bean. Each of their coffees are made to order, and while it might take a bit longer, your well-worth-it wait will be rewarded with one of the smoothest cups in town. Check out their website for their home brewing guides or stop by and taste for yourself.
Five Watt Coffee
(612) 259-2719
Calling all coffee nerds. Let's be honest, if you haven't heard of Five Watt Coffee you don't even deserve to call yourself that. This local coffee house will turn even the darkest of coffee drinkers to their specialty cup ways. Five Watt Coffee approaches each cup they make like a finely crafted cocktail. We suggest trying the Kingfield, made with vanilla, big watt coriander bitters, espresso, milk and black Hawaiian sea salt, or the Busy Beaver, made with maple syrup, blackstrap bitters, cinnamon, molasses drizzle, cracked pepper, espresso and milk. For those who still insist on a plain cup of joe, Five Watt has you covered too. Simply pick your favorite bean from their rotating selection, sit back and enjoy.
Let's Connect! Tag us on Instagram at @LBHyundai and follow us on Twitter. Don't forget to like us on Facebook or and keep up with our blog for updates on everything Hyundai.
Click here to see our inventory of new 2016 Hyundai models. We look forward to helping you find your next vehicle. We proudly serve Eagan, Savage, Apple Valley, Farmington, Lakeville, Jordan, New Prague and Elko. Stop by and how our team can assist you today!
Luther Burnsville Hyundai | 952-367-4600 | 14700 Buck Hill Road, Burnsville, MN